Mentha spicata
Summary
| | |
| --- | --- |
| Resource Type | |
| Abbreviation | |
| Genus | |
| Species | |
| Common Name | |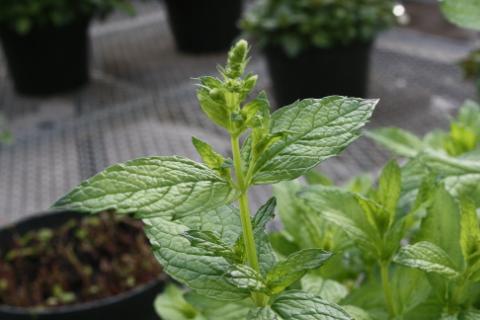 Description
Description

Description

Perennial plant with wide-spreading rhizomes.

Native to much of Europe and Asia (Middle East, Himalayas, China etc.), and naturalized in parts of northern and western Africa, North and South America, as well as various oceanic islands.

For commercial production, long midsummer days, full sun, and significant day/night temperature fluctuations are desirable.

Major growing regions are the United States (Pacific Northwest, Midwest) and India.Along with watermint, one of the parents of peppermint.

Commercially grown native spearmint is a vegetatively propagated hybrid.

Genetics        

2n=3x=36 (Mentha x villosonervata Opitz; native spearmint).
2n=4x=48 (Mentha spicata L.; fertile).
2n=7x=84 (Mentha x gracilis Sole; Scotch spearmint).

Oil characteristics
(Native spearmint (Mentha spicata))  

High:  (-)-carvone.
Medium:  (-)-limonene.
Low:  (-)-dihydrocarvone, 1,8-cineole.

Notes    
The natural diversity of the oil composition among Mentha spicata accessions is currently being investigated.  These data sets will be uploaded here soon.

Essential oil composition of native spearmint (Mentha spicata) from Yakima Valley growing area (Washington State, USA):

Constituent
Abundance
(% of oil)
Structure
(-)-Carvone
60-70
(-)-Limonene
13-20
(-)-Dihydrocarvone
3-5
1,8-Cineole
3-5
β-Pinene
2-3
trans-Dihydrocarvyl acetate
1-2
cis-Carvyl acetate
1-2

Minor constituents (between 0.5 and 1.5 %): myrcene, α-pinene, 3-octanol, carvomenthone, β-caryophyllene, germacrene D. About 10-15 other constituents are generally detectable at below 0.5 %.

References:
B.M. Lawrence (Ed.) (2006) Mint - The Genus Mentha, CRC Press.
Murray, M.J., Faas, W., Marble, P. (1972) Effects of plant maturity on oil composition of several spearmint species grown in Indiana and Michigan. Crop Sci. 12: 723-728.
Properties
| | |
| --- | --- |
| Lineage | cellular organisms; Eukaryota; Viridiplantae; Streptophyta; Streptophytina; Embryophyta; Tracheophyta; Euphyllophyta; Spermatophyta; Magnoliopsida; Mesangiospermae; eudicotyledons; Gunneridae; Pentapetalae; asterids; lamiids; Lamiales; Lamiaceae; Nepetoideae; Mentheae; Menthinae; Mentha |
| Division | |
| Mitochondrial Genetic Code Name | |
| Genetic Code Name | |