Mentha suaveolens
Summary
| | |
| --- | --- |
| Resource Type | |
| Abbreviation | |
| Genus | |
| Species | |
| Common Name | |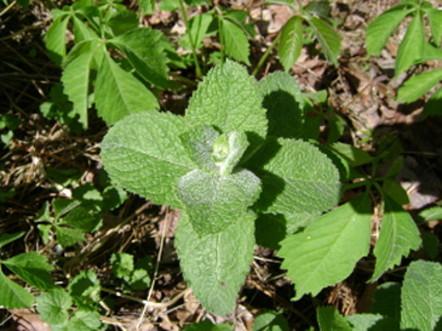 Description
Description

Description

 

Synonyms - pineapple mint, woolly mint or round-leafed mint.

Perennial plant with wide-spreading rhizomes.

Ranges through southern and western Europe and the western Mediterranean region.

Paternal parent of spearmint (Mentha spicata) (maternal parent of spearmint is horsemint (Mentha longifolia)) and "grandparent" to peppermint (Mentha x piperita) (peppermint is a sterile hybrid generated from a cross of spearmint and watermint.

 

 

Genetics
2n=2x=24 (diploid).

Oil characteristics
The natural diversity of the oil composition among Mentha suaveolens accessions is currently being investigated. These data sets will be uploaded here soon.

References:

B.M. Lawrence (Ed.) (2006) Mint - The Genus Mentha, CRC Press.
Hendriks, H., Os, F.H.L. (1976) Essential oil of two chemotypes of Mentha suaveolens during ontogenesis. Phytochemistry 15: 1127-1130.
Properties
| | |
| --- | --- |
| Ploidy | |
| Lineage | cellular organisms; Eukaryota; Viridiplantae; Streptophyta; Streptophytina; Embryophyta; Tracheophyta; Euphyllophyta; Spermatophyta; Magnoliopsida; Mesangiospermae; eudicotyledons; Gunneridae; Pentapetalae; asterids; lamiids; Lamiales; Lamiaceae; Nepetoideae; Mentheae; Menthinae; Mentha |
| Division | |
| Mitochondrial Genetic Code Name | |
| Genetic Code Name | |